Analisis Bunyi pada Budaya Gedogan Masyarakat Osing Banyuwangi
Keywords:
Culture, Gedogan, Sounds, Frequency
Abstract
Gedogan is one of the arts that can be found in several places in Banyuwangi. Gedogan is part of the culture of pounding rice from the Osing Banyuwangi community. This is a musical art that is played by women using a mortar and pestle that are smacked against each other. This study aims to analyze the sounds that appear in the Gedogan. Data were collected by interview, observation, and documentation. Data were analyzed using software (software) Visual Analyzer (VA) which can detect sounds along with the intensity and frequency of incoming sounds. This research illustrates that the sound in Gedogan depends on the material of the mortar, its size, position, and the point of impact. This can be seen from different measured sound frequencies. The Gedogan Rumah Wisata Osing group distinguishes sounds with the techniques of othek 1, othek 2, and othek 3. The frequency produced in the games of the Gedogan Rumah Wisata Osing group ranges from 320-1120 Hz This study is expected that this research will be a way to preserve culture by introducing and integrating related learning.
Downloads
Download data is not yet available.
References
Asyari, R. A., & Murwaningrum, D. (2018). MENGENAL PRINSIP BUNYI PADA INSTRUMEN ANGKLUNG. INFOKOM (Informatika & Komputer), 6(2), 50–58.
Baquete, A. M., Grayson, D., & Mutimucuio, I. V. (2016). An Exploration of Indigenous Knowledge Related to Physics Concepts Held by Senior Citizens in Chókwé, Mozambique. International Journal of Science Education, 38(1), 1–16. https://doi.org/10.1080/09500693.2015.1115137
Firdiani, F., Huriawati, J., & Kurniadi, E. (2020). Potensi Kesenian Tradisional Dongkrek Dalam Pembelajaran Fisika Pada Materi Gelombang Bunyi. SNPF (Seminar Nasional Pendidikan Fisika).
Giancoli, D. C. (2014). Fisika Prinsip dan Aplikasi. (Alih Bahasa: Irzam Hardiansyah). Airlangga.
Hainen, N., Zike, D., Ezrailson, C., & Lillie, D. (2005). Waves, Sound, and Light . National Geographic .
Halliday, Resnick, & Walker, J. (2011). Physics, 9th extended edition (Terjemahan) (9th ed.). Airlangga.
Harefa, A. R. (2017). Pembelajaran fisika di sekolah melalui pengembangan etnosains. Warta Dharmawangsa, 53.
Haryadi, R., Oktarisa, Y., & Darman, D. R. (2017). Penerapan Konsep Fisika dengan Menggunakan Food Storage Technique Suku Baduy. Gravity: Jurnal Ilmiah Penelitian Dan Pembelajaran Fisika, 2(2).
Ishaq, M. (2003). Hand Out Fisika Dasar 2 / Gelombang Bunyi : Fisika Dasar . Universitas Negeri Yogyakarta.
Jepri, G. M., Mardhiansyah, M., & Sribudiani, E. (2016). Kriteria Pemilihan Jenis Kayu sebagai Bahan Baku Alat Musik Gambus Berdasarkan Persepsi Masyarakat di Kota Pekanbaru Provinsi Riau. Jurnal Online Mahasiswa Fakultas Pertanian Universitas Riau, 3(1), 1–7.
Mujakir, M. (2012). PENGEMBANGAN LIFE SKILL DALAM PEMBELAJARAN SAINS. Jurnal Ilmiah Didaktika, 13(1). https://doi.org/10.22373/jid.v13i1.460
Novitasari, L., Agustina, P. A., Sukesti, R., Nazri, M. F., & Handhika, J. (2017). Fisika, etnosains, dan kearifan lokal dalam pembelajaran sains. Prosiding SNPF (Seminar Nasional Pendidikan Fisika), 81–88.
Paryanto, J. (2010). Seni Budaya dan Keterampilan. Mediatama.
Purwiyantini, Y., Aji, M. P., & Sulhadi, S. (2016). Analisis Akustik Alat Musik Rebana. Prosiding Seminar Nasional Fisika (E-Journal), 5, SNF2016-CIP.
Rahayu, W. E., & Sudarmin, S. (2015). Pengembangan modul IPA terpadu berbasis etnosains tema energi dalam kehidupan untuk menanamkan jiwa konservasi siswa. Unnes Science Education Journal, 4(2).
Rahmadani, S. D., & Nurmasyitah. (2022). Kajian Konsep Gelombang Bunyi Berbasis Etnofisika Aceh Pada Permainan Seurune On U. GRAVITASI: Jurnal Pendidikan Fisika Dan Sains, 5(02). https://doi.org/10.33059/gravitasi.jpfs.v5i02.6597
Ratnasari, P. (2017). Musik Gedogan Di Desa Kemiren Kabupaten Banyuwangi (Tinjauan Sejarah Dan Perkembangan). Diambil Tanggal, 1.
Sutopo. (2012). Kecenderungan Over-Generalize Penggunaan Prinsip Kolom Udara/Pipa Organa Dalam Analisis Frekuensi Sumber Bunyi . . Prosiding Seminar Masional MIPA Dan Pembelajaran, 824–831.
Trisnowati, E. (2017). Analisis Frekuensi Pada Gong Laras Slendro. Indonesian Journal of Science and Education, 1(1), 30–35.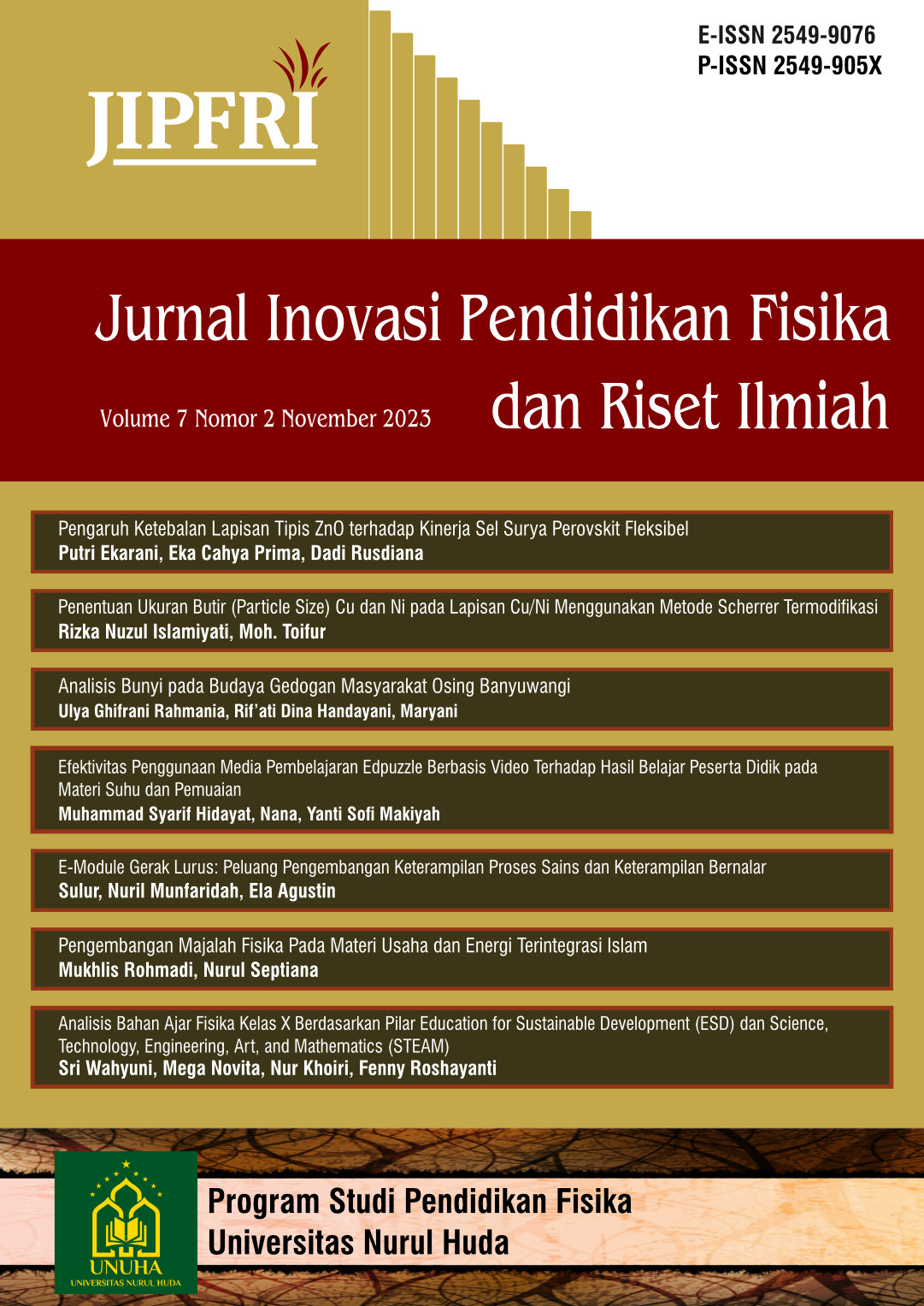 Downloads
How to Cite
Rahmania, U. G., Handayani, R. D., & Maryani. (2023). Analisis Bunyi pada Budaya Gedogan Masyarakat Osing Banyuwangi. JIPFRI (Jurnal Inovasi Pendidikan Fisika Dan Riset Ilmiah), 7(2), 63–71. https://doi.org/10.30599/jipfri.v7i2.920
License
Copyright (c) 2023 Ulya Ghifrani Rahmania, Rif'ati Dina Handayani, Maryani
This work is licensed under a Creative Commons Attribution-ShareAlike 4.0 International License.

Abstract Views: 28 |

File Views: 20