Penentuan Ukuran Butir (Particle Size) Cu dan Ni pada Lapisan Cu/Ni Menggunakan Metode Scherrer Termodifikasi
Keywords:
Grain Size, Cu/Ni Coating, Electroplating, Modified Scherrer
Abstract
The Cu/Ni layer is a layer that can be used as a material for low temperature sensors. The coating can be made by means of electroplating. Electroplating has limitations in controlling the number and size of metal particles. Therefore, the purpose of this study was to determine the grain size of Cu and Ni in electroplated Cu/Ni layers at varying voltages from 6 to 8 volts using the modified Scherrer method and to analyze the effect of stress on grain size. The method used in this research is descriptive method using a quantitative approach. The results showed that the grain size of the Cu substrate was D= (0.5071 ± 0.06) nm. As for the Ni layer, stress affects grain size. A voltage of 7 volts can produce the largest grain size of 0.776059 nm.
Downloads
Download data is not yet available.
References
Azizah, A. (2020). Analisis Parameter Struktur pada Reduced Graphene Oxide dari Tempurung Kelapa Menggunakan Metode Scherrer dan Williamson-Hall. Skripsi, Fakultas Sains Dan Tekonologi, Universitas Islam Negeri Maulana Malik Ibrahim Malang.
Bonardo, D., & Siburian, R. (2021). Analisis Struktur Nano Partikel Silika dari Abu Ampas Tebu Menggunakan Metode XRD. EINSTEIN (e-Journal), (1), 13–20. http://jurnal.unimed.ac.id/2012/index.php/einstene-issn:2407-747x,p-issn2338-1981
Bunaciu, A. A., Udriştioiu, E. gabriela, & Aboul-Enein, H. Y. (2015). X-Ray Diffraction: Instrumentation and Applications. Critical Reviews in Analytical Chemistry, 45(4), 289–299. https://doi.org/10.1080/10408347.2014.949616
Charles Manurung, ST., M. (2014). Pengaruh Kuat Arus Terhadap Ketebalan Lapisan dan Laju Korosi (Mpy) Hasil Elektroplating Baja Karbon Rendah dengan Pelapis Nikel. Visi, 21(2), 1857–1869.
Fiqry, R., Toifur, M., & Khusnani, A. (2018). Ketebalan dan Nilai Resitivitas Lapisan Tipis Cu/Ni/Cu/Ni Hasil Penumbuhan dengan Metode Elektroplating pada Variasi Tegangan Deposisi (V). Seminar Nasional Edusainstek, 46–54.
Hamidun, E., & Toifur, M. (2019). Pembuatan Lapisan Cu / Ni pada Variasi Waktu Deposisi Berbantuan Medan Magnet. 1–5.
Harbbi, K. H., & Jahil, S. S. (2017). Study the Lattice Distortion and Particle Size of One Phase of MnO by Using Fourier Analysis of X-ray Diffraction Lines. Advances in Physics Theories and Applications, 65(x), 6–22.
Kurapati, S., & Srivastava, P. K. (2018). Application of Debye-Scherrer Formula in The Determination of Silver Nano Particles Shape. International Journal of Management, Technology And Engineering, 8(XII), 81–84.
Lalu A. Didik. (2020). Penentuan Ukuran Butir Kristal CuCr0,98 Ni0,02O2 dengan Menggunakan X-Ray Difraction (XRD) Dan Scanning Electron Microscope (SEM). Indonesian Physical Review, 2(3), 1–8.
Masruroh, Manggara, A., Papilaka, T., & T, R. T. (2013). Penentuan ukuran Kristal (crystallite size) lapisan tipis PZT dengan metode XRD melalui pendekatan persamaan Debye Scherrer. Jurusan Fisika Dan Kimia FMIPA Universitas Brawijaya, 1(2), 24–29.
Muniz, F. T. L., Miranda, M. A. R., Morilla Dos Santos, C., & Sasaki, J. M. (2016). The Scherrer equation and the dynamical theory of X-ray diffraction. Acta Crystallographica Section A: Foundations and Advances, 72(3), 385–390. https://doi.org/10.1107/S205327331600365X
Permatasari, I. (2018). Analisis Struktur Mikro Kristal pada Serbuk dan Lapisan Nicral dengan Elemen Reaktif (Si Dan Y) menggunakan Metode Scherrer. Skripsi, Fakultas Sains Dan Tekonologi, Universitas Islam Negeri Syarif Hidayatullah Jakarta, 1–84.
Putama Mursal, I. L. (2018). Karakterisasi XRD Dan SEM Pada Material Nanopartikel Serta Peran Material Nanopartikel Dalam Drug Delivery System. Pharma Xplore : Jurnal Ilmiah Farmasi, 3(2), 214–221. https://doi.org/10.36805/farmasi.v3i2.491
Raharjo, P. W., & Toifur, M. (2014). Kawat Solenoida sebagai Sensor Suhu Berbasis Resistor Temperature Detector Coils ( RTD-C ). Prosiding Pertemuan Ilmiah XXVIII HFI Jateng & DIY, 168–169.
Ramadani, I. W. S. (2015). Karakterisasi Koreksi Pelebaran Puncak dan 2θ pada Analisis Difraksi Sinar-X. Thesis, Program Magister Bidang Keahlian Material, Jurusan Fisika, FMIPA, Institut Teknologi Sepuluh NopemBer, Surabaya, 108.
Sinaga, Z., & Joniwarta, J. (2020). Analisis Ukuran Kristal Dan Sifat Magnetik Melalui Proses Pemesinan Milling Menggunakan Metode Karakterisasi Xrd, Mechannical Alloying, Dan Ultrasonik Tekanan Tinggi Pada Material Barium Hexaferrite (Bafe12o19). Jurnal Kajian Teknik Mesin, 5(1), 9–14. https://doi.org/10.52447/jktm.v5i1.2372
Sumadiyasa, M., & Manuaba, I. B. S. (2018). Penentuan Ukuran Kristal Menggunakan Formula Scherrer, Williamson-Hull Plot, dan Ukuran Partikel dengan SEM. Buletin Fisika FMIPA UNUD, Buleti (No. 1), 19, 28–35.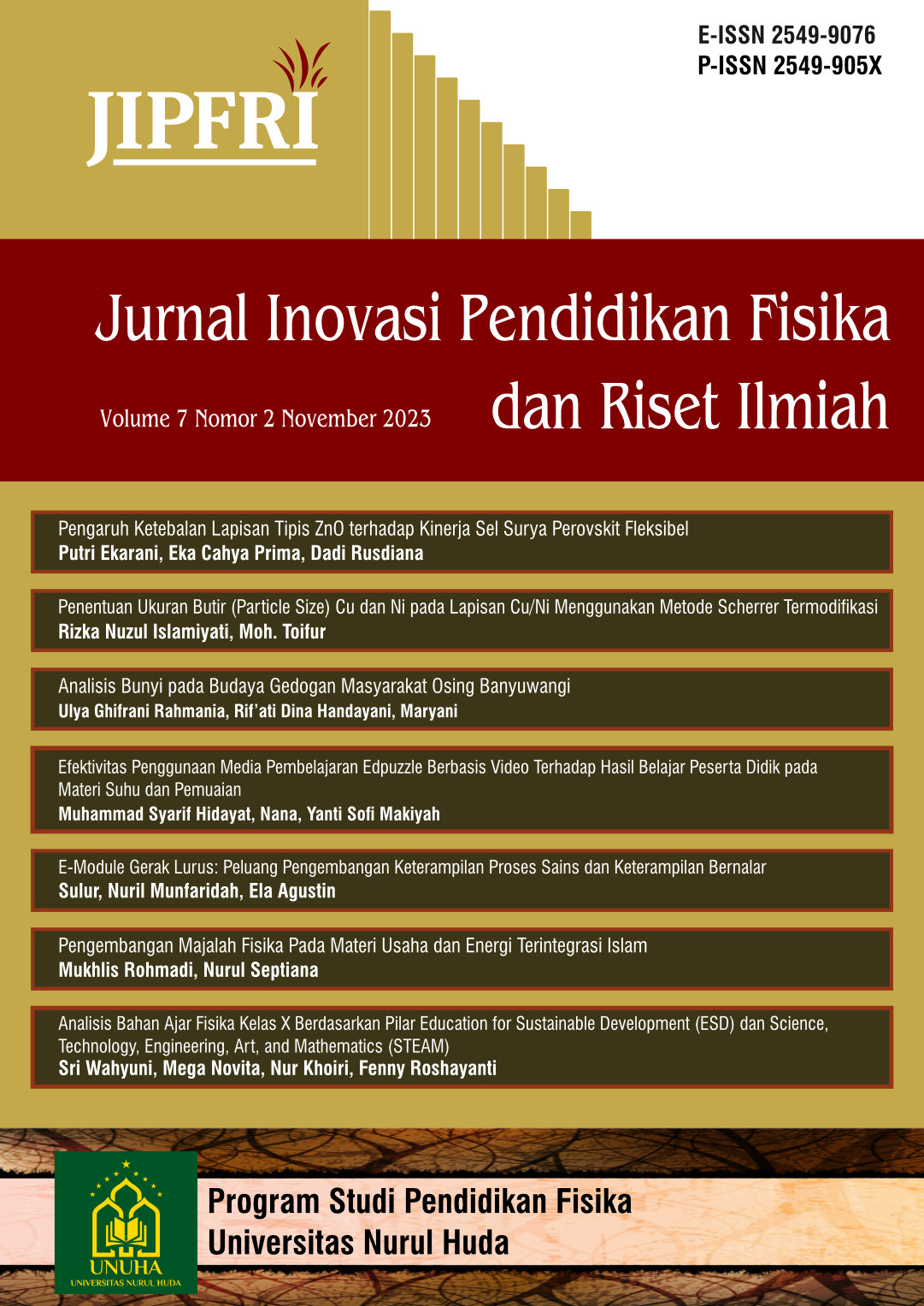 Downloads
How to Cite
Rizka Nuzul Islamiyati, & Moh. Toifur. (2023). Penentuan Ukuran Butir (Particle Size) Cu dan Ni pada Lapisan Cu/Ni Menggunakan Metode Scherrer Termodifikasi . JIPFRI (Jurnal Inovasi Pendidikan Fisika Dan Riset Ilmiah), 7(2), 56–62. https://doi.org/10.30599/jipfri.v7i2.2294
License
Copyright (c) 2023 Rizka Nuzul Islamiyati, Moh. Toifur
This work is licensed under a Creative Commons Attribution-ShareAlike 4.0 International License.

Abstract Views: 17 |

File Views: 16