Lexical Ambiguity in the "The Merry Adventures of Robin Hood" Novel by Howard Pyle
Keywords:
A Study, Lexical Ambiguity, Novel
Abstract
This study aims to find the types and amount of Lexical Ambiguity in the novel "The Merry Adventures of Robin Hood" by Howard Pyle. The method used in this research is the descriptive qualitative method. The data collection technique used in this study has several steps, namely understanding lexical ambiguity, reading the novel, finding out lexical ambiguity words in the novel, and making a note of the lexical ambiguity words of the novel. The data source for this research is the novel "The Merry Adventures of Robin Hood" by Howard Pyle. The focus of the research is homonyms, homographs, and homophones. Based on the results of data analysis the use of the word lexical ambiguity as much as 73 data. The first number of findings, the use of homonyms was 19 findings (26%). This word is two or more words that have the same pronunciation but different meanings. Second, Homographs with a total of 30 findings (41%). This word has the same spelling, but its pronunciation and meaning are different. and the Third, Homophone with a total of 24 findings (33%). These words are spelled differently but have a similar pronunciation. Thus, from this amount, it can be concluded that the novel The Merry Adventures of Robin Hood by Howard Pyle found many uses of the word lexical ambiguity with a total of 73 data findings, and the most domineering use of the word is found in the use of Homographs with 30 data findings with a percentage of 41 %.
Downloads
Download data is not yet available.
References
Brilliant Alifazuha. (2022). Lexical And Structural Ambiguity Found In The Script Of Emily In Paris Movie Series.
Ekasari, D., Bakti Mardikantoro, H., Haryadi, H., Maritim Raja Ali Haji, U., Balai Karimun, T., & Karimun Kepulauan Riau, K. (N.D.). Seloka: Jurnal Pendidikan Bahasa Dan Sastra Indonesia Language Politeness In The Novel "Ketika Cahaya Rembulan Mengecup Lautan" By Anisha Dayu On Wattpad Application. 2022. Https://Journal.Unnes.Ac.Id/Sju/Index.Php/Seloka
Hidayah, C., Ningrum, C., Fajriyah, K., & Budiman, M. A. (2019). Pembentukan Karakter Rasa Ingin Tahu Melalui Kegiatan Literasi. Ivcej, 2(2).
Lestari, O., & Rosalina, P. (2022). Alih Kode Dan Campur Kode Dalam Interaksi Sosial Antara Penjual Dan Pembeli. Disastra: Jurnal Pendidikan Bahasa Dan Sastra Indonesia. 4(1), 11–19. Https://Doi.Org/10.29300/Disastra.V4i1.4703
Mutiarani. (2017). The Role Of Literary Work As A Product Of Creative Industry Towards Asean Economic Community.
Novena. (2019). Strategi Dominasi Dalam Novel Maryam Karya Okky Madasari: Perspektif Pierre Bourdieu.
Rafendi, T. P. (2020). Analisis Kesulitan Belajar Berbasis Komunikasi Dalam Jaringan (Daring) Siswa Kelas Iv: Vol. Iii (Issue 3).
Putri, C. A., Damayanti, I., & Hardiah, M. (2023). An Analysis of Values in Social Life in Snowpiercer Movie. In Proceedings of the 3rd International Conference on Educational Science and Teacher Profession (ICETeP 2021) (pp. 230–237). Atlantis Press SARL. https://doi.org/10.2991/978-2-494069-19-0_24
Rekha Agnira. (2014). Ambiguity Found In Passport To The World 2: A Fun And Easy English Book: Content Analysis Article Publication Submitted As A Partial Fulfillment Of The Requirements For Getting Bachelor Degree Of Education In English Department.
Salahudin, A., Dan, P., & Putra, C. A. (N.D.). Pengaruh Pair Recording Method Dan Audio Lingual Method Terhadap Hasil Belajar Bahasa Inggris The Effect Of Pair Recording Method And Audio Lingual Method On English Learning Outcomes (Vol. 7). Http://Journal.Umpalangkaraya.Ac.Id/Index.Php/
Sapir, E. (2013). Language An Introduction To The Study Of Speech.
Sari, A., Alifulia, N., & Ahmad Dahlan. (2021). Analysis Of Language Errors In The Field Of Semantics In The 2017 Indonesian Joking Time Program.
Zhang, Y., & Wildemuth, B. M. (2005). Qualitative Analysis Of Content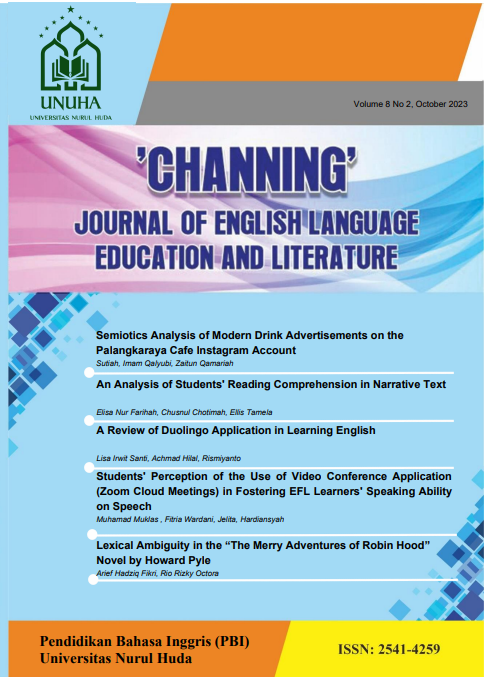 Downloads
How to Cite
Hadziq Fikri, A., & Rizky Octora, R. (2023). Lexical Ambiguity in the "The Merry Adventures of Robin Hood" Novel by Howard Pyle. Channing: Journal of English Language Education and Literature, 8(2), 71–82. https://doi.org/10.30599/channing.v8i2.2826
License
Copyright (c) 2023 Arief Hadziq Fikri, Rio Rizky Octora
This work is licensed under a Creative Commons Attribution-ShareAlike 4.0 International License.

Abstract Views: 93 |

File Views: 46