Semiotics Analysis of Modern Drink Advertisements on the Palangkaraya Cafe Instagram Account
Keywords:
Advertisement, Modern drink, Semiotic analysis, signs
Abstract
This research paper titled "Semiotic Analysis of Modern Drink Advertisements on The Palangkaraya Cafe Instagram Account" delves into the realm of modern drink advertisements in the digital age. It explores the significance of semiotics in understanding the hidden messages conveyed by advertisements in the context of cafes. The study aims to answer two main research questions: What kinds of signs exist in modern drink advertisements, and what meanings are conveyed by these signs? The research employs a qualitative descriptive approach, utilizing interviews and documentation as data collection methods. The study's primary focus is on three cafes in the Palangkaraya area: Taguk Ha Cafe, Nakaya Cafe, and Yomi Cafe, with a specific emphasis on modern drink advertisements from their Instagram accounts. Data analysis follows a systematic process, including data reduction, data display, and conclusion drawing/verifying. The researcher uses Charles Sanders Peirce's semiotic theory to analyze the signs in the advertisements, distinguishing between icons, indices, and symbols. The result of this research shows In essence, language and symbolic signifiers in advertising transcend the boundaries of brand communication. They become the conduits through which desires are kindled, emotions are stirred, and aspirations are awakened in the audience. Whether through carefully crafted language or the strategic use of symbols, advertisers have at their disposal a rich palette of tools to engage consumers on a profound and deeply meaningful level, thereby forging connections that extend beyond the realm of commerce.
Downloads
Download data is not yet available.
References
Mason, A. N., Narcum, J., & Mason, K. (2021). Social media marketing gained importance after Covid-19. Cogent Business and Management, 8(1), 1–17. https://doi.org/10.1080/23311975.2020.1870797
Mohd Yassin, M. (2020). Teks Perutusan Khas YAB Perdana Menteri Malaysia (pp. 1–17).
Nakat, Z., & Bou-Mitri, C. (2021). COVID-19 and the Food Industry: Readiness Assessment. Food Control, September, 1–10. https://doi.org/10.1016/j.foodcont.2020.107661
Nhamo, G., Dube, K., & Chikodzi, D. (2021). Restaurants and COVID-19: A Focus on Sustainability and Recovery Pathways. Counting the Cost of COVID-19 on the Global Tourism Industry, 8(1), 1–17. https://doi.org/https://doi.org/10.1080/23311975. 2020.1870797
O'Donnell, M. (2017). Interactions Between Natural–Language Processing and Systemic Functional Linguistics.
Oputa, E. A., & Ahmad, F. Bin. (2019). Semiotic Advertising by International Firms: A Comparative Study of Premium Smart Phone Brands in China, South Korea, and USA. International Journal of Applied Business and International Management, 4(1), 38–45. https://doi.org/10.32535/ijabim.v4i1.381
Othman, N. (2006). Current Trends in Pronoun Usage Among Malay Speakers. Tenth International Conference on Austronesian Linguistics, 1–33.
Patel, N. C., & Bhutiani, S. R. (2018). A Semiotic Approach Through Print Advertisements: The Changing Indian Urban Male. https://doi.org/https://doi.org/10.4018/978-1-5225-2727-5.ch010
R, S., & Rajasekaran, V. (2021). A Visual Analysis of Advertisements in Feminism: Logics and Illogicality. International Journal of Social Science and Human Research, 04(08), 2176–2180. https://doi.org/10.47191/ijsshr/v4-i8-31
Rashid, B. N. (2017). A Linguistic Analysis Of Halliday's Systemic-Functional Theory In Political Texts. Al-Ustath, 220(1), 1–24.
Richardson, J. E. (2006). Analyzing Newspapers an Approach from Critical Discourse Analysis. Bloomsbury Publishing.
Rummo, P. E., Cassidy, O., Wells, I., Coffino, J. A., & Bragg, M. A. (2020). Examining the relationship between youth-targeted food marketing expenditures and the demographics of social media followers. International Journal of Environmental Research and Public Health, 17(5), 1–12. https://doi.org/10.3390/ijerph17051631
Saxton, G. D., Niyirora, J. N., Guo, C., & Waters, R. D. (2015). #AdvocatingForChange: The Strategic Use of Hashtags in Social Media Advocacy. Advances in Social Work, 16(1), 154–169. https://doi.org/10.18060/17952
Sidor, A., & Rzymski, P. (2020). Dietary Choices and Habits During COVID-19 Lockdown: Experience From Poland. Nutrients, 12(6), 1–13. https://doi.org/10.3390/nu12061657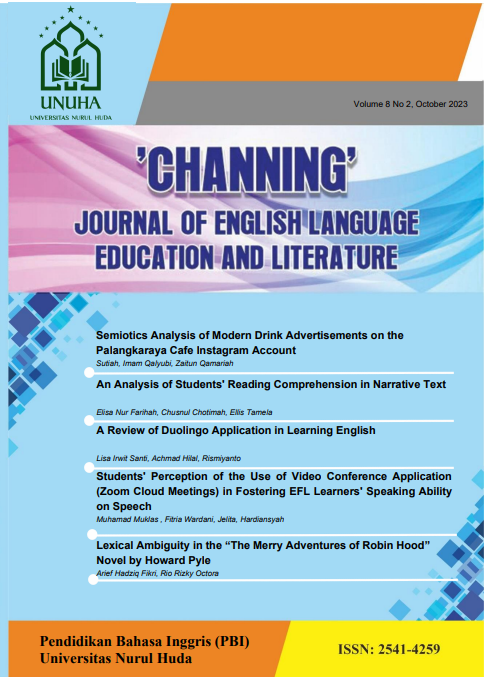 Downloads
How to Cite
Sutiah, Imam Qalyubi, & Zaitun Qamariah. (2023). Semiotics Analysis of Modern Drink Advertisements on the Palangkaraya Cafe Instagram Account. Channing: Journal of English Language Education and Literature, 8(2), 38–47. https://doi.org/10.30599/channing.v8i2.2844
License
Copyright (c) 2023 Sutiah, Imam Qalyubi, Zaitun Qamariah
This work is licensed under a Creative Commons Attribution-ShareAlike 4.0 International License.

Abstract Views: 87 |

File Views: 64