An Analysis of Students' Reading Comprehension in Narrative Text
Keywords:
Reading Comprehension, Narrative Text, Analysis,
Abstract
This study was conducted to analyze students' reading comprehension of narrative texts. A qualitative descriptive method with observations, interviews, and documentation is utilized as instruments. The results showed that students had a variety of abilities in understanding narrative texts, from the interviews and existing observational data. Moreover, it was found that 11 students understood this material because they could explain the meaning, cite the examples, mention the general structure, and determine the general structure of narrative texts in the text entitled "Lake Toba." It was also found that four students understood this material quite well, but imperfectly because they did not mention all the general structures of narrative texts; the other five students did not understand this material because, during the interview, they could not explain the meaning, examples, and general structure of this material. based on the student's ability to answer the questions posed by the researcher.
Downloads
Download data is not yet available.
References
Aulia, S. N. (2021). An Analysis of Students' Ability in Reading Comprehension of Narrative Text to The Second Grade Students of SMPN 5 Medan.
Creswell, J. W. (2009). Research Design Qualitative.
Gultom, J. M., Fransiska Purba, N., Padang, L., Susanty, M., & Tarigan, B. (2021). AN ANALYSIS OF STUDENTS' READING COMPREHENSION OF NARRATIVE TEXT AT SMP PENCAWAN MEDAN.
Khosiyono, B. H. C. (2019). Foreign Language Education Policy in Indonesia in The Perspective of Global Society. Jurnal Pembangunan Pendidikan: Fondasi Dan Aplikasi, 6(1), 70–82. https://doi.org/10.21831/jppfa.v6i1.20612
Moleong, L. J. (2011). Metode Penelitian Kualitatif (Edisi Revisi) (Bandung: PT. Rosda Karya).
Nunan, D. (2003). Practical English Language Teaching. McGraw-Hill.
Rohmah, Z. (2005). ENGLISH AS A GLOBAL LANGUAGE: ITS HISTORICAL PAST AND ITS FUTURE.
Satata, S., Suswandari, D., & Waras Suhardjono, D. (2012). Indonesia Language. Mitra Wacana Media.
Sembiring, R. A. (2019). The Student's Ability in Reading Comprehension in Narrative Text. SALTeL Journal (Southeast Asia Language Teaching and Learning), 2(2), 36–44. https://doi.org/10.35307/saltel.v2i2.30.
Setyawati, G. D., & Mandarani, V. (2021). Analysis of Student's Comprehension in Reading Narrative Text on English Learning at Junior High School. Academia Open, 4. https://doi.org/10.21070/acopen.4.2021.2973
Sutriono. (2018). An Analysis of Students' Reading Comprehension Through Repeated Reading Technique In Narrative Text At The Eleventh Grade Of Sma Negeri 1 Sekampung East Lampung.
Syafi'i, M., & Kasdi, J. (2007). The Effective Paragraph Developments: The Process of Writing for Classroom Settings. Pekanbaru: LBSI.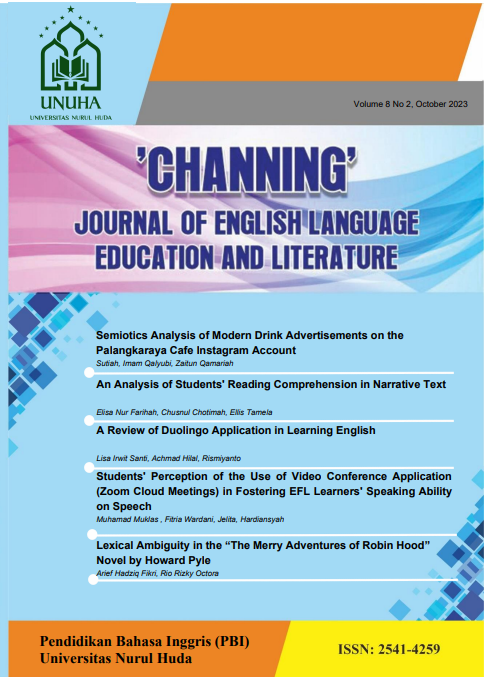 Downloads
How to Cite
Elisa Nur Farihah, Chusnul Chotimah, & Ellis Tamela. (2023). An Analysis of Students' Reading Comprehension in Narrative Text. Channing: Journal of English Language Education and Literature, 8(2), 48–55. https://doi.org/10.30599/channing.v8i2.2786
License
Copyright (c) 2023 Elisa Nur Farihah, Chusnul Chotimah, Ellis Tamela
This work is licensed under a Creative Commons Attribution-ShareAlike 4.0 International License.

Abstract Views: 83 |

File Views: 75