The Portrayal of Orientalism and Occidentalism in the novel "A Passage to India" by, E. M. Forster Post-Colonialism Approach
Keywords:
Oreintalism, Occidentalism, Post-Colonialism
Abstract
This research was conducted to analyze the influence of orientalism and occidentalism on the lives of western and eastern people in the novel "a passage to india" by e. M. Forster using a post-colonial approach and the theory of edward said, namely Orientalism and Occidentalism. According to Said, Orientalism is the study of Eastern world in the perspective or Western people and Occidentalism is the study of Western world in the perspective of Eastern people. This study used qualitative methods to analyze the potrayal and influence of the two theories in their respective social lives. Based on the analysis that has been done in the novel "A Passage to India", Western people in India still monopolize the government and look down on Indian. Although there are some characters who have welcomed and treated Indians well but their initial interest in coming to India was to rule India.
Downloads
Download data is not yet available.
References
Ashcroft, B., Griffiths, G., & Tiffin, H. (n.d.). POST-COLONIAL STUDIES.
Dewi, N. (2018). Postcolonial Hermeneutics : Concepts and Contribution to Understanding Socio-Religious Problems in Southeast Asia. 2(1), 47–66.
E. M Forster. (1924). A passage to India. Penguin Books.
Edward Said. (1979). Orientalism.
Fatima, D. M. (2016). Orientalism, Occidentalism, and Islamophobia Deconstructing "the Other": A Case Study of East vs. West". Research Journal of Language, Literature and …, 3(4), 10–15.
Feriyadi, H. S. (2018). HASSAN HANAFI'S RESPONSE TO WESTERN HEGEMONY IN MUQADDIMAH FĪ 'ILMI AL-ISTIGHRĀB THROUGH HEGEMONY THEORY OF GRAMSC. IJISH (International Journal of Islamic Studies and Humanities), 1(1), 1–8.
Francaviglia, R. V. (2011). Go East, Young Man. In Angewandte Chemie International Edition, 6(11), 951–952
.Leavy, P. (2017). Research Design: Quantitative, Qualitative, Mixed Methods, Arts-Based and Community-Based Participatory Research Approach.
Roth, J. (2017). Feminism Otherwise. Intersectionality beyond Occidentalism. InterDisciplines. Journal of History and Sociology, February. https://doi.org/10.4119/UNIBI/indi-v8-i2-178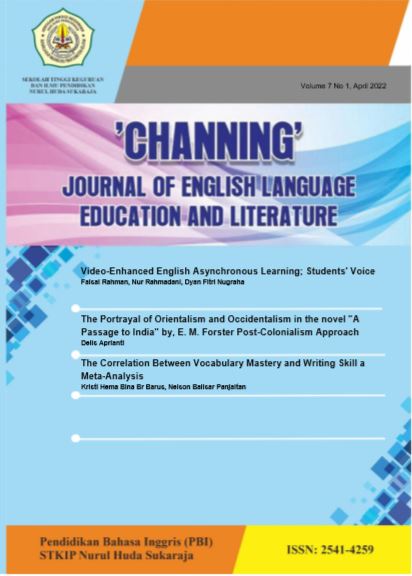 Downloads
How to Cite
Aprianti, D. (2022). The Portrayal of Orientalism and Occidentalism in the novel "A Passage to India" by, E. M. Forster Post-Colonialism Approach. Channing: Journal of English Language Education and Literature, 7(1), 7–12. https://doi.org/10.30599/channing.v7i1.1509

Abstract Views: 349 |

File Views: 323