Kaderisasi DAI NU Untuk Meningkatkan Kualitas Keislaman dan Kebangsaan di OKU Timur
Keywords:
regeneration, DAI, Islam
Abstract
The regeneration of DAI NU is carried out with the aim of producing DAI regeneration who have broad insight into Islam, are brave and firm in conveying the truth, have national insight and insight into Ahlusunnah wal Jama'ah, are able to spread Islamic traditions that are friendly, tolerant and have good morals and become good role models. for the community, able to convey Islamic da'wah in the realm of ukhuwah Islamiyah, ukhuwah bashariyah, ukhuwah wathoniyah. The implementation steps start from (1) deliberation of the service team with the LDNU management; (2) participant recruitment; (3) Education and training; (4) Field Da'wah Practice; (5) evaluation. The resulting output is the formation of Dauroh DAI NU in East OKU which has received a certificate of education and training for DAI NU. The certificate in question is also a form of legality for preaching recommended by the East NU OKU PC.
Downloads
Download data is not yet available.
References
Anwar, C. (2018). Islam Dan Kebhinekaan Di Indonesia: Peran Agama Dalam Merawat Perbedaan. Zawiyah: Jurnal Pemikiran Islam, 4(2), 1–18.
Asmar, A. (2018). Genealogi dan Strategi Dakwah Kultural NU. ISLAMICA: Jurnal Studi Keislaman, 13(1), 165–184.
Cholili, M. S. (2016). Toleransi Beragama (Studi Konsep Tawasut, I'tidal, Tawazun, Dan Tasammuh) Sebagai Upaya Resolusi Konflik Pada Masyarakat Perumahan Giri Pekukuhan Asri Mojosari. At-Tahdzib: Jurnal Studi Islam Dan Muamalah, 4(2), 144–154.
Pramesti, K., & Suardana, I. W. (2019). Faktor Penyebab dan Upaya Penanggulangan Tindak Pidana Pencurian Kendaraan Bermotor (Curanmor) Di Kota Denpasar. Kertha Wicara: Journal Ilmu Hukum, 9(2), 1–16.
Rahmawati, R. F. (2016). Kaderisasi Dakwah Melalui Lembaga Pendidikan Islam. Tadbir: Jurnal Manajemen Dakwah, 1(1).
Razi, F. (2011). NU dan kontinuitas dakwah kultural. Jurnal Komunikasi Islam, 1(2), 161–171.
Rusdi, M. A. (2019). Wawasan Al-Qur'an Tentang Musyawarah.
Santoso, T., Fauziati, E., Afianto, D., & Purnomo, E. (2020). Islam Wasathiyah (Islamic Moderitism) in the Muhammadiyah Khittah Document. PalArch's Journal of Archaeology of Egypt/Egyptology, 17(7), 3512–3531.
SARI, I. P., Nashriana, N., & Ikhsan, M. (2019). Upaya Pencegahan Tindak Pidana Pencurian Dengan Kekerasan Oleh Kepolisian Resort Ogan Komering Ulu Timur. Sriwijaya University.
Setyawan, A. (2020). Dakwah Yang Menyelamatkan: Memaknai Ulang Hakikat Dan Tujuan Da'wah Islamiyah. Al-Adabiya: Jurnal Kebudayaan Dan Keagamaan, 15(02), 189–199.
Sodikin, A. (2019). Strategi Pembelajaran Pendidikan Agama Islam Berbasis Moderat Di Perguruan Tinggi Keagamaan Islam. Al-I'tibar: Jurnal Pendidikan Islam, 6(2), 76–86.
Sodikin, A., & Maarif, M. A. (2021). Penerapan Nilai Islam Moderat Dalam Pembelajaran Pendidikan Agama Islam di Perguruan Tinggi. EDUKASI: Jurnal Penelitian Pendidikan Agama Dan Keagamaan, 19(2), 188–203.
Tajuddin, Y. (2015). Walisongo dalam Strategi Komunikasi Dakwah. Addin, 8(2).
Yusuf, A. (2018). Moderasi Islam Dalam Dimensi Trilogi Islam (Akidah, Syariah, Dan Tasawuf). Al-Murabbi: Jurnal Pendidikan Agama Islam, 203, 203–216. http://jurnal.yudharta.ac.id/v2/index.php/pai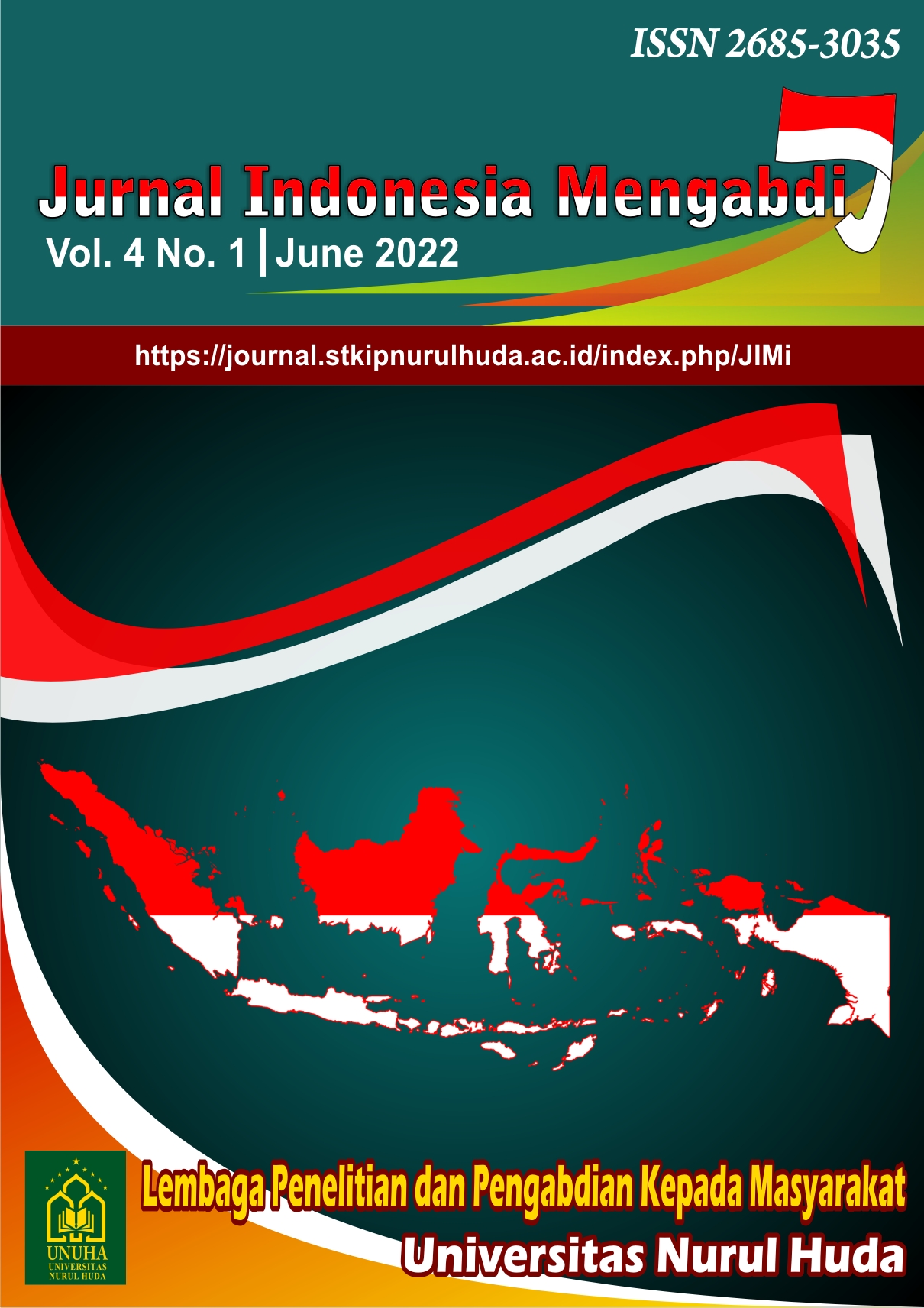 Downloads
How to Cite
Sodikin, A., Hasan, S., & Ni'am, A. U. (2022). Kaderisasi DAI NU Untuk Meningkatkan Kualitas Keislaman dan Kebangsaan di OKU Timur. Jurnal Indonesia Mengabdi, 4(1), 1–7. https://doi.org/10.30599/jimi.v4i1.1470

Abstract Views: 50 |

File Views: 52